SOR Clean is backed by the National Carpet Cleaners Association, so you can rest assured that when you choose us to clean your carpets, you'll receive the best possible standards.
Send a brief message about what service your require and we'll be in touch shortly:
Professional & affordable carpet cleaning in Bedford.
SOR Clean provides high-quality, affordable carpet cleaning services in Bedford and the surrounding areas.
When you need your carpets cleaning, you want to know you'll be getting a reliable service. No one wants to spend days waiting for their carpets to dry only for them to re-soil in no time at all.
We only use environmentally-friendly cleaning solutions and detergents, meaning no harmful chemicals will be used in your home.
Contact us to arrange a free, 10-15 minute no-obligation consultation where we can discuss your requirements explain our process.
Following your consultation, we'll give you a guaranteed price for your cleaning job, this price will remain the same with no hidden extras.
Ask about our specialist packages,Clean only,  Clean & Protect & Healthy Home. 
Superior clean of carpets and upholstery.  Free bottle of stain remover. If you were to stain your freshly cleaned carpet within 14 days we will re-clean the area FREE. 
As Clean Only but with added Stain Protection
2 Free Call Outs if unable to Remove Stain (Up to one hour per visit)
As Clean & Protect but with added Health benefits
The use of Promite. We can protect dust mite infestations for up to 2 years.
Our carpet cleaning Bedford service uses the latest high powered equipment and cleaning solutions.
We know that carpets need to be cleaned delicately, without the correct training damage can be done to the fragile fibres. That's why at SOR Clean, we regularly attend training events to ensure we stay up to date with the latest practices.
Our carpet cleaning services use safe, natural soap-free cleaning solutions made from plant extracts which vastly outperform soap-based chemicals.
had my carpets cleaned today, absolutely love it...nice and clean and smelling fresh. good job well done
Friendly, efficient service, Sean came out soon after making a booking and did a great clean on our carpets, will definitely use again!
Sean is a great guy and works hard. Did my carpets at short notice at end of my tenancy. Would recommend his services to any one needing carpets cleaning and will be using him when the time comes to need my carpets cleaning in my new house. Thanks Sean!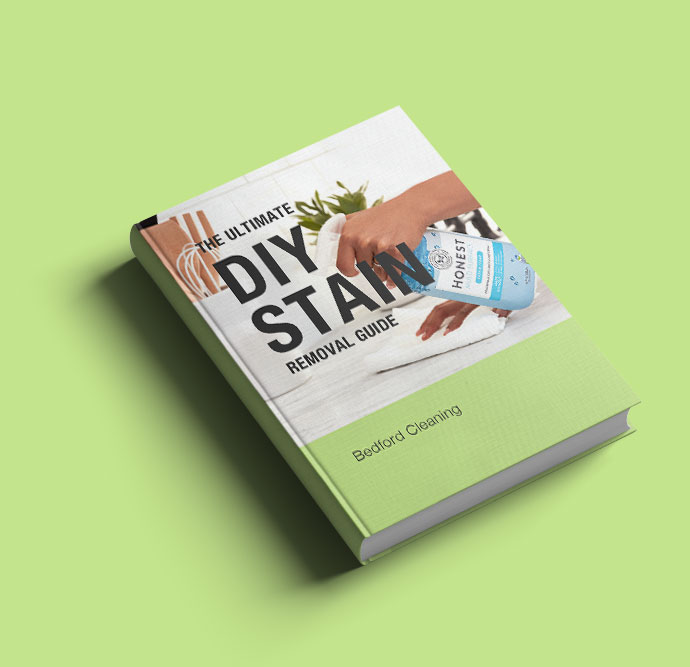 The Ultimate Stain Removal Guide
Download our free guide which gives you the top insider tips on how to remove stains from your carpet and upholstery. 
Using professional-grade equipment and environmentally friendly detergents, SOR Clean will keep your carpets 'cleaner for longer'. We're backed by the NCCA so you can be sure you'll receive the highest quality service.
Cleaning upholstery requires a more delicate touch than carpet cleaning. Over our years in business, we have developed an expert technique for cleaning upholstery without damaging the fragile fabrics.
Commercial spaces take on a lot of wear and tear, so they need a tougher approach to being cleaned. From deep-cleaning carpets to hard floors, SOR Clean's commercial cleaning services tackle the damage.